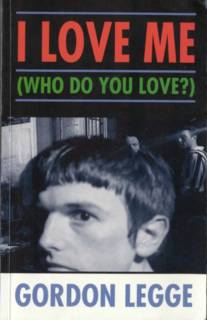 I may as well indulge in the new gizmo for the blog, and post a few images before the novelty wears off.
The image is self-explanatory - the front cover of Gordon Legge's novel, 'I Love Me (Who Do You Love)'. I had wanted to feature the front cover of his novel, 'The Shoe', which is my personal favourite novel of his but there wasn't the original Polygon Press cover online on the net and I didn't fancy going for the explosion in a paint shop cover that adorns the reprint. Handy thing is, I couldn't find an image of the front cover 'I Love Me (Who Do You Love)' on the net so it looks like I've performed a public service by scanning it in.
Though I was not too impressed with Legge's last collection of short stories, 'Near Neighbours', I would happily recommend both of his novels 'The Shoe' and 'I Love Me (Who Do You Love)', and his first collection of short stories, 'In Between Talking About Football'. Legge's characters, their environment and non-happenings, I imagine, aren't that far removed from the lifestyle of himself and his own immediate circle. To read Legge's fiction is to get an impression of what the characters in Gregory's Girl would have been doing after they left school, where work wasn't the centre of ones existence, but friendship, football, good music and herbal medication played a far more central role in life.
Maybe that means that Legge is a one trick pony when it comes to fiction writing - hence the fact that his last collection wasn't as good as his previous work - but if that is the case, then it was and is a good one trick and people will be rediscovering Legge's writings in future years. Let there be no mistake about that.